The appearance of the skin is affected by both the state of health and external environmental factors, as well as life experiences and time. By cooperating with a cosmetologist, it is possible to implement face, neck and décolleté skin care in the long run – by regularly performing care procedures suitable for your skin condition, choosing appropriate cosmetics, as well as reducing existing aesthetic imperfections and signs of ageing.
In order for the effect of cosmetic procedures to be noticeable and long-lasting, it is necessary to create an individual treatment plan based on careful diagnostics. Cooperation with an "Anti-Aging Institute" cosmetologist begins with a full assessment of the skin condition using the VISIA system. With VISIA it is possible to assess skin texture, superficial and deep pigmentation, UV damage, condition of blood vessels and pores and the presence of porphyrin-producing bacteria. This diagnostic apparatus allows to compare the current condition of the skin with how the skin should look at the given age. Once the treatment is started, it is possible to monitor the facial skin changes after the performed procedures.
After compiling the results of all the examinations conducted, the cosmetologist informs the client about the most appropriate type of facial skin care and undertakes a variety of cleansing, restorative and preventive procedures according to the state of the client's skin and his/her wishes. "Anti-Aging Institute" provides the widest and most modern range of aesthetic medicine and beauty care technologies and methods in Latvia. The clinic's professionals use high-quality medical cosmetics, the latest scientific and technological solutions and the most recognized beauty methods in the world.
Pay attention to your well-being and lifestyle!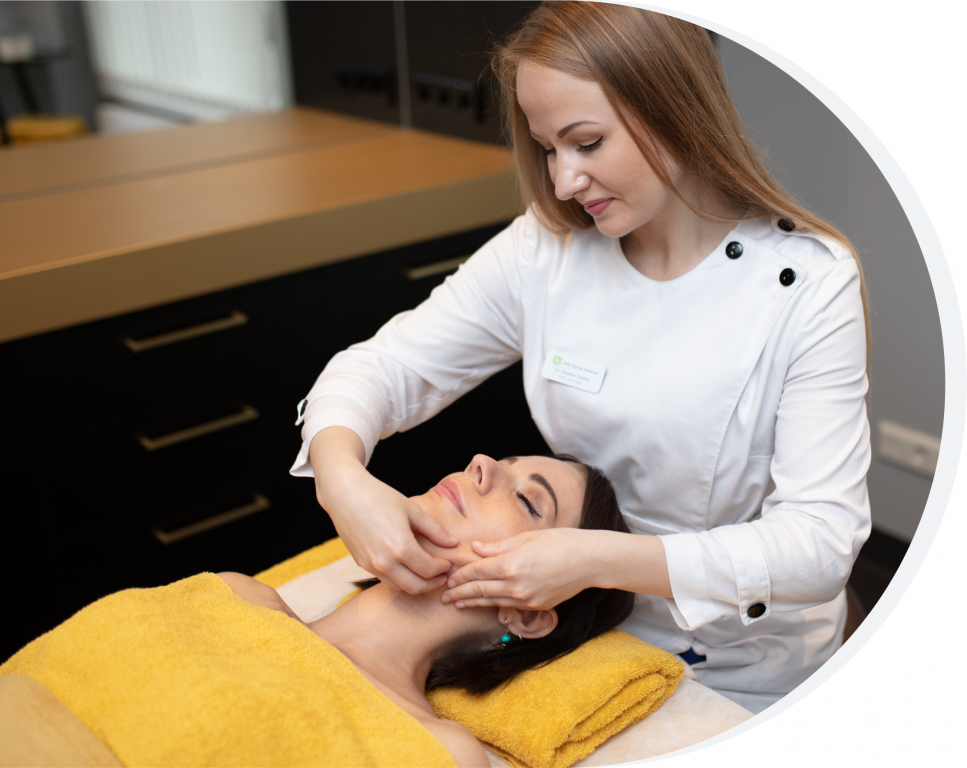 A visit to a cosmetologist is recommended for you:
for the development of an individual facial diagnostics and procedure plan and a home care plan;
for the correction of signs of ageing – wrinkles, sagging of the facial skin, pigmentation disorders, etc.;
for the correction of various skin conditions – couperose, dehydration, excess skin sensitivity, improvement of skin tone, etc.;
in case of problematic skin – rash, acne, acne scars, enlarged pores, increased sebum secretion;
for the treatment of specific areas – eyes, neck, décolleté, double chin and other areas;
for the preventive maintenance of the condition of the facial skin with care procedures or injection methods;
to maintain the results of invasive procedures in collaboration with dermatologists.
Based on the "Anti-Aging Institute" multifunctional approach, cosmetologists pay special attention to the client's state of health and, if necessary, can recommend consultations with other specialists of the clinic. 
Services:
consultations;
facial skin condition assessment (VISIA);
individually developed facial aesthetic procedure plan;
facial care procedures;
beauty injections (botulinum toxin, PRP, PFR);
mesotherapy;
biorevitalization (injections, PRX therapy);
hardware technology procedures for the face:
facial skin cleansing;
skin tone restoration;
administration of active substances (TMT system);
radio frequency technology.
GOLD SELECTION OF COSMETOLOGY TREATMENT IS AVAILABLE TO ANTI-AGING INSTITUTE CLIENTS: